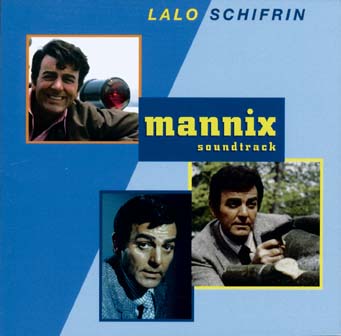 One of the most recognizable elements of Mannix is the music. Composed by Lalo Schifrin, the Mannix title track featured a jazz theme that was ground-breaking for its time.
******
Lalo Schifrin, born Boris Claudio Schifrin, in Buenos Aires on June 21, 1932, has been an influential music presence in the U.S. since the early 50's. His skill as a composer, arranger, pianist, and conductor has earned him tremendous success and respect as a soundtrack composer. Among his many notable works, including my favorite "The Theme from Mannix," he has scored major success with film classics--Bullitt, Cool Hand Luke and Dirty Harry to name a few.

The Mannix theme...not only is it a wonderful, snappy, jazzy piece of work for a television show, it graciously allows the talented music editors for the show--Jerry Fielding, for an example--to musically expand the theme in many different directions. Listening closely to the music in an episode of Mannix, one can repeatedly hear the main theme evolve into whatever mood the script calls for - boisterous, ethereal, intense, reserved, brooding, anxious, sexy, and violatile - all these "moods" are demostrated by the talented music editors opening up Schifrin's main melody.

The theme starts out simple enough--the first two lines easily hummable. Schifrin "opened" up the third and fourth lines (how many people do you know can hum the third and fourth lines musically correct--nearly impossible!) paving a musical path for the editors to carve whatever mood the story called for. Unlike several tv shows of that era (some shows changed their themes totally), the Mannix theme despite changes in instrumentation never varied from its main melody--this illustrated by the three different versions we hear during Mannix's eight-year run.

Being a devoted fan of the show Mannix, my appreciation is only heightened and intensified by Mr. Schifrin's superb score. I felt almost 40 years ago that it was the best music theme I'd ever heard and 40 years later I still feel the same!!! Enjoyed his Mission:Impossible theme too!!! The 3/2 rhythm and plenty of hard-driving percussion reminded me of his early roots as arranger with Xavier Cugat with a little Dizzy Gillespie thrown in later.

After almost four decades of jazz-oriented compositions and scores, Mr. Schifrin has renewed his roots in classic music--most recently being credited as principal arranger for the Three Tenors. I will always feel privileged to be able to hear his outstanding work.
-Jennifer Baker
Musician
Mr. Schifrin's web site can be found at: www.schifrin.com

Lalo Schifrin may have provided the tunes, but, beginning in 1968, Gail Fisher and Mike Connors made beautiful music together. Gail gave Mannix not only a secretary, but much more. Wrapped up in an incredibly efficient package, Peggy Fair was versatile enough to be everything from a companion to a partner to, at times, a fellow detective.
The chemistry between Ms. Fisher and Mr. Connors was a thing of beauty for viewers. Thanks to her wonderful insight into the character of Peggy, Ms. Fisher brought her sense of humor, beauty, and humanity to the role. Gail Fisher passed away in December of 2000.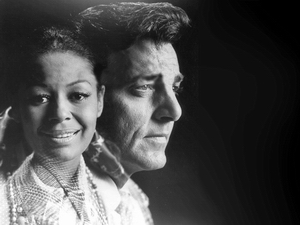 Gail Fisher - The name of an actress I will always remember and respect.
She made important strides as a black actress which unfortunately, along with her contributions and accomplishments on the series Mannix, have all too often been pushed to the wayside.
As the first black actress who appeared in a nationally televised commercial, she also pioneered the field by becoming the first black actress to CO-STAR in a long-running tv drama.
Gail Fisher and Nichelle Nichols are both pioneers in their respective roles. However, it should be made clear Miss Nichols was a "supporting" actress (Uhura) on Star Trek whereas Miss Fisher shared billing credit along with star, Mike Connors. ST's run on primetime tv was three years compared to the eight years Mannix ran. Star Trek's longevity in syndication over the past 30+ years enabled and endeared it to new heights in popularity whereas Mannix all but disappeared after its eight-year run. Had Mannix been party to the growing syndication packages, it's safe to say, it would be available on vhs and dvd today.
Born August 18, in Orange, New Jersey and a graduate of Methusen High, Gail Fisher went on to become an exceptionally beautiful actress whose talented, acting skills catapulted her rise to fame that blossomed more with Mannix.
Also, a published lyricist, she possessed a fine singing voice which came in handy in her early career. As a student of the famed American Academy of Dramatic Arts based in New York she toured performing in acclaimed productions such as Purlie Victorius in the well-know Lorraine Hansbury play "Raisin in the Sun". During her climb to fame she made scores of tv appearances.
On Mannix, Gail gave Peggy Fair a warm, loving and loyal side tempered with a tough-love personality. Her closest family was her son Toby, and her boss, confidant and close friend Joe Mannix. Her closest friends as well as others could depend on her to give one hundred & fifty percent--even when they appeared apprehensive accepting help--Mannix included. The respect and closeness of the three is beautifully illustrated in the conclusion of the 5th season's episode "Ticket to the Eclipse". Episodes where her talent soars are numerous--"Medal for a Hero," "Last Rites for Miss Emma," "Out of the Night" to name a few. In the 3rd season's popular "Sound of Darkness," she was the early catalyst illustrating the 'tough love' philosophy (before those words became a popular phrase) prompting Joe Mannix quickly on the road to recovery.
More credit is due regarding Gail's accomplishments because, sadly in my opinion she has been overlooked. It's truly a shame, because she was a pioneer who paved the way for upcoming black artists today. It's important that we Mannix fans share the joy and pass it along.
Gail Fisher, I salute you and may you always be remembered.
-Jennifer Baker, 2004